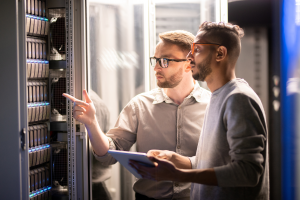 Next to an electrical failure, water leaks are the second most common reason for computer room data loss. Commercial water leak detectors are very inexpensive when compared to the expense of data loss. Water leak detection is commonly installed in data centers, communications rooms, and other information technology dependent structures. In data centers, many water leak prone areas get developed during installation of air conditioning equipment. For example, installation of precision air conditioners requires water supply and drainage pipes. Any leakage to these pipes can be a disaster for data centers. Also, there will be always a threat of water leaking from external walls and roof. Hence there should be an automatic system which can detect water leaks at an early stage and should inform user to avoid any disastrous situation.
Why water leak detection is important in data centers?
Data centers house essential equipment important for its efficiency. Unchecked leaks from AC units, water pipes, drainage, or even water from the ground can cause serious issues. Servers, computers, and other IT gear are vulnerable to water. Just a tiny, unchecked leak can wreak serious havoc. It can destroy the efficacy of your gear and the information it holds. This will cause a chain reaction in damaging your equipment as well as ruining your business.
The existence of water is not quickly identified. A common scenario is flooding beneath computer-raised flooring. Precipitation and leaks can be seen only when the water splotches show themselves. Water pooling can originate from leaky pipes and trickles from adjoining walls. They can also come from the moisture of air-conditioning systems. Water can penetrate through nearby walls or make its way down to lower levels. The trial-and-error technique of cracking walls is unnecessary if the proper precautions are taken. Water leak detection systems can pinpoint leaks anywhere on your site immediately and automatically.
WLD Series is Here!
The WLD Series is designed to detect the presence of water or other conductive liquids and to signal alarms if one or more of three conditions are met: water detected, power to device is lost, or if there is an internal failure.
The WLD is available as either a single or dual channel device, both with 3 available sensing types: spot, remote spot, or with conductivity cable which is available in numerous lengths.
Product features include:
Single Channel – 1 detection type input, 1 or 2 Relay output
Dual Channel – 2 detection type inputs, each with independent relay outputs
3 detection types: Spot, Remote Spot or Conductivity Cable
Multi-color LED for status indication
Integrated, height adjustable mount legs